Inmunoterapia en el cáncer de cervix
Immune-Based Treatment Shows Promise against Metastatic Cervical Cancer
April 16, 2015 by NCI Staff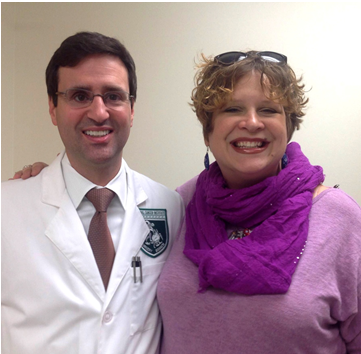 Dr. Christian Hinrichs and Susan Scott, who participated in the NCI immunotherapy trial, at a follow-up visit. Ms. Scott had a complete response to the treatment that is still ongoing after 24 months. (Photo courtesy of Susan Scott)
Two patients with metastatic cervical cancer had a complete disappearance of their tumors after receiving treatment with a form of immunotherapy called adoptive cell transfer (ACT). A third patient experienced a reduction in tumor size for a short time following the treatment.
The findings, from an early-phase clinical trial conducted by researchers from NCI's Center for Cancer Research (CCR), were published March 30 in the Journal of Clinical Oncology (JCO).
The treatment tested in the trial consisted of an infusion of immune cells—know as tumor-infiltrating lymphocytes (TILs)—that were collected from each patient's own tumor and expanded in the laboratory. ACT has had success in small clinical trials of patients with melanoma and some blood cancers conducted by researchers at NCI and several other institutions.
But this is the first time ACT has been tested in patients with cervical cancer, explained the study's lead author, Christian Hinrichs, M.D., of CCR's Surgery Branch.
Nearly all cervical cancers are caused by persistent infections with certain types of the human papillomavirus (HPV). HPV-infected cells produce specific proteins, or antigens—known as E6 and E7—that can be recognized by T cells, which are immune cells that play a critical role in the body's response to infectious agents and infected cells. All of the patients in the trial had tumors that express the E6 and E7 proteins.
The researchers selected for expansion those T cells that would have the greatest likelihood of attacking cancer cells. They did this chiefly by identifying those that were most reactive for the E6 and E7 proteins, although other characteristics were also considered. Patients received chemotherapy before infusion of the expanded T cells and regular infusions with IL-2 for up to three days afterward, both of which have been shown to enhance T cells' ability to eradicate cancer cells.
The findings published in JCO cover the nine patients in the trial with cervical cancer. The trial also includes patients with other HPV-related cancers, including oropharyngeal and anal cancer.
The two complete responses were ongoing 22 and 15 months after treatment, respectively. One partial response lasted for 3 months. The three patients whose tumors responded to treatment had T cells that were reactive to the HPV proteins. They also had reactive T cells in samples of blood collected one month after treatment. There were no apparent side effects related to the cell infusion, the researchers reported, although most patients experienced side effects from the pre-infusion chemotherapy and post-infusion IL-2 treatments.
"There's been a lot of hope that's come from seeing the complete, long-lasting tumor responses in cellular therapy for melanoma and B-cell cancers," Dr. Hinrichs said. "For the first time, we're seeing that sort of response in an epithelial cancer."
Despite coming from a trial with such a small number of patients, "these results are impressive and suggest that this highly personalized therapeutic modality warrants further investigation," wrote Kunle Odunsi, M.D., Ph.D., of the Roswell Park Cancer Institute, and his colleagues in an accompanying editorial in JCO.
Based on these early results, the trial protocol has been amended so that only patients whose TILs are reactive for the E6 and E7 proteins will receive the treatment. "This way we can only treat the patients with the highest likelihood of responding to the treatment," Dr. Hinrichs said.
Another trial testing a different form of ACT in patients with HPV-related cancers has been opened at NCI, Dr. Hinrichs added. That trial involves genetically engineering T cells collected from patients' blood (rather than their tumors) to express a receptor that's specific for the E6 and E7 proteins.
Fuente: National Cancer Institute: Cancer Currents Blog April 16, 2015 by NCI Staff
Reference. Rapid Communications
Complete Regression of Metastatic Cervical Cancer After Treatment With Human Papillomavirus–Targeted Tumor-Infiltrating T Cells
Sanja Stevanović, Lindsey M. Draper, Michelle M. Langhan, Tracy E. Campbell, Mei Li Kwong, John R. Wunderlich, Mark E. Dudley, James C. Yang, Richard M. Sherry, Udai S. Kammula, Nicholas P. Restifo, Steven A. Rosenberg, and Christian S. Hinrichs
Purpose: Metastatic cervical cancer is a prototypical chemotherapy-refractory epithelial malignancy for which better treatments are needed. Adoptive T-cell therapy (ACT) is emerging as a promising cancer treatment, but its study in epithelial malignancies has been limited. This study was conducted to determine if ACT could mediate regression of metastatic cervical cancer. Patients and Methods: Patients enrolled onto this protocol were diagnosed with metastatic cervical cancer and had previously received platinum-based chemotherapy or chemoradiotherapy. Patients were treated with a single infusion of tumor-infiltrating T cells selected when possible for human papillomavirus (HPV) E6 and E7 reactivity (HPV-TILs). Cell infusion was preceded by lymphocyte-depleting chemotherapy and was followed by administration of aldesleukin. Results: Three of nine patients experienced objective tumor responses (two complete responses and one partial response). The two complete responses were ongoing 22 and 15 months after treatment, respectively. One partial response was 3 months in duration. The HPV reactivity of T cells in the infusion product (as measured by interferon gamma production, enzyme-linked immunospot, and CD137 upregulation assays) correlated positively with clinical response (P = .0238 for all three assays). In addition, the frequency of HPV-reactive T cells in peripheral blood 1 month after treatment was positively associated with clinical response (P = .0238). Conclusion: Durable, complete regression of metastatic cervical cancer can occur after a single infusion of HPV-TILs. Exploratory studies suggest a correlation between HPV reactivity of the infusion product and clinical response. Continued investigation of this therapy is warranted.
JCO May 10, 2015:1543-1550; DOI:10.1200/JCO.2014.58.9093.